Find Your Perfect E-Bike in Alberta, CA
Browse Freedom Ebike's selection of available full-size models to find your ideal e-bike in Alberta, CA. We sell a variety of different styles, each with their own advantages.
The Cruise model is built to go the distance—even if that means uphill or against the wind. It's perfect for city commutes. Our Mountain model is the ride of choice for those who love trail riding and off-roading. For those who want to conquer even the bumpiest terrain, we recommend the Max model. If you have any questions about our electric bikes for sale in Alberta, CA, please don't hesitate to reach out to us today.
When you purchase more than one bike, we offer a credit of $50 /bike that can be put toward accessories. We also sell full-size electric bikes in Alberta, CA, which are eligible for this deal as well; talk to our team for details.
Contact our store to learn more about our wide selection of electric bikes for city and off-road riding. We have many satisfied customers throughout Alberta, CA, and in all of the surrounding areas.
Model
Cruise
This Bike is made for distance, the 250W motor will help you going up the hill or bucking a wind.
The large 27.5" x 2.125 tire makes it ideal for a smooth ride and front suspension.
With 21 speeds, this is a good highway and long distance travel machine
Motor
36v 250w brushless hub
Battery
36v 10Ah lithium
Speed
25kms/hr
Range
35-45 kms with pedel Assist
PAS
1:1 pedal Assist System
Controller
36v intelligent PAS
Frame
Al Alloy
Colour
Black and White
Tires
27.5" x 2.125"
Rims
Al alloy Double-deck
Front Fork
Suspension
Front Brake
Disc Brake Tektro
Rear Brake
Disc Brake Tektro
Gears
21 speed Shimano
Derailleur
Shimano
Display
LCD
Chain
Rust Resistant
Max Loading
120 Kgs
Packing Size
1920 x 300 x 1070
Bike Weight
27 Kgs
Saddle
Soft Comfortable
Brake Lever
cut off when braking
Charger
100v-230v 1.8 amps
Price
$1,449.00
Warranty
12 Months
Included: Motor, Battery, Controller, Charger
Model
Mountain
With Full Suspension and 26" x 2.5 " Tires offers a smooth ride along with 48V 500W motor will get you where you need to go
This bike is made for trails and off road yet comfortable for all commuting.
Motor
48v 500w brushless hub
Battery
48v 13Ah lithium
Speed
32 kms/hr
Range
35-45 kms with pedel Assist
PAS
1:1 pedal Assist System
Controller
48v intelligent PAS
Frame
Aluminium Alloy
Colour
Blue, Red, and Black
Tires
26" x 2.5"
Rims
Al alloy Double-deck
Front Fork
Suspension
Rear Suspension
Yes
Front Brake
Disc Brake
Rear Brake
Disc Brake
Gears
7 speed Shimano
Derailleur
Shimano
Display
LCD
Chain
Rust Resistant
Max Loading
120 Kgs
Packing Size
160x32x80cm
Bike Weight
27 Kgs
Head Light
Yes
Saddle
Soft Comfortable
Brake Lever
cut off when braking
Charger
100v-230v 2 amps
Price
$2,029.00
Warranty
12 Months
Included: Motor, Battery, Controller, Charger
Model
Trike
Step Thru Fat Tyre Tricycle
48V 500W with a range of 30-40kms.
Brushless Motor
Front 24inch, Rear 20inch Kenda
Alloy suspension for smooth rides
Motor
48V 500W rear brushless motor
Battery
48V 15.6 Ah Lithium Battery
Speed
25-35Km/h
Range
30km(only electric)-40Km(PAS)
PAS
1:1 intelligent pedal assistant system
Controller
48V 22A Intelligent controller
Frame
6061 Alloy material
Colour
Blue, Red
Tires
Front 24inch , Rear 20inch Kenda
Rims
Alloy
Front Fork
Alloy suspension
Front Brake
Mechanical disc brake with park brakes
Rear Brake
Mechanical disc brake with park brakes
Gears
SHIMANO 7 speed gears
Derailleur
Shimano
Display
LCD display,5 assistant model
Chain
KMC brand Rust resistant
Max Loading
150 Kgs
Bike Weight
35 Kgs
Head Light
Yes
Fenders
None
Saddle
Extra wide comfort with suspension
Price
$3,999.00
Warranty
12 Months
Included: Motor, Battery, Controller, Charger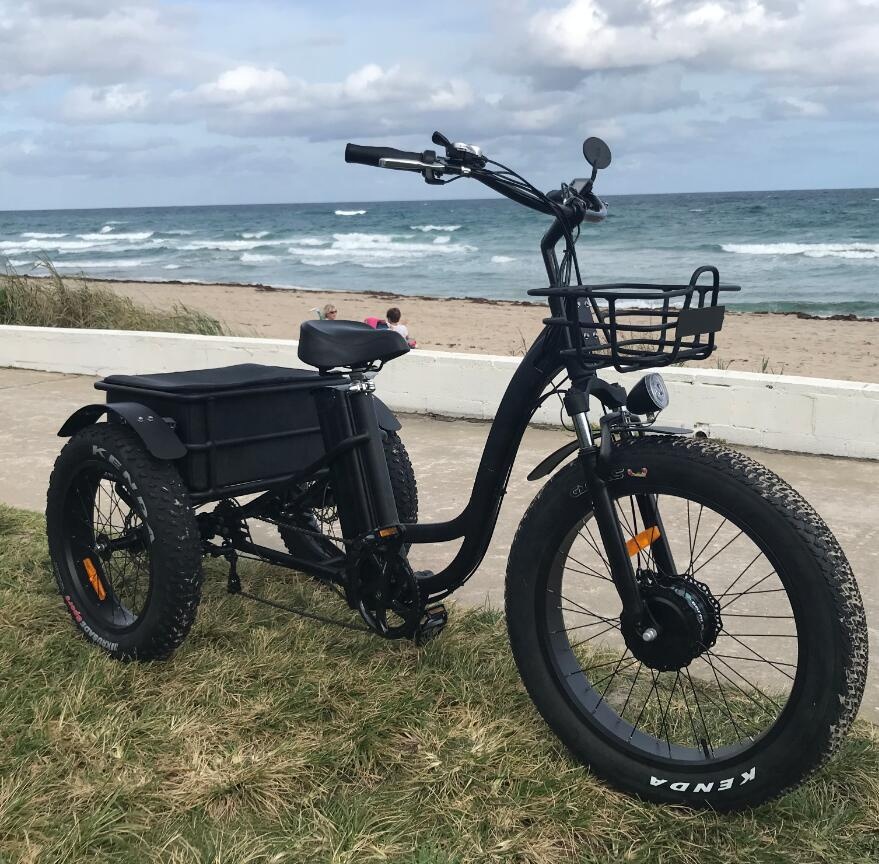 Model
Max
Powerful 48V 500W Rear Hub Brushless Motor
26 x 4" Fat Tire are great for snow, sand, gravel etc.
Front Suspension for shock free ride
Power supplied by 13ah Lithium Battery
Motor
48v 500w brushless hub
Battery
48v 13Ah lithium
Speed
32kms/hr
Range
35-40 kms with pedal Assist
PAS
1:1 pedal Assist System
Controller
48v intelligent PAS
Frame
Aluminum Alloy
Colour
Red, White, and Black
Tires
26" x 4"
Rims
Al alloy Double-deck
Front Fork
Suspension
Front Brake
Disc Brake
Rear Brake
Disc Brake
Gears
7 speed Shimano
Derailleur
Shimano
Display
LCD
Chain
Rust Resistant
Max Loading
100 Kgs
Packing Size
1920 x 300 x 1070
Bike Weight
27 Kgs
Head Light
Yes
Saddle
Soft Comfortable
Brake Lever
cut off when braking
Charger
100v-230v 2 amps
Price
$1,899.00
Warranty
12 Months
Included: Motor, Battery, Controller, Charger
Model
MTN
Powerful 48V 500W Front Brushless Motor
Power supplied by 14 Ah Lithium Battery
Motor
48v 500w front brushless hub
Battery
48v 14Ah lithium
Speed
25-35 kms/hr
Range
30km (only electric)- 40Km (PAS)
PAS
1:1 pedal Assist System
Controller
48V 22A Intelligent controller
Frame
6061 Alloy material
Colour
Black
Tires
Kenda 27.5" X 2.1"
Rims
Al alloy Double-deck
Front Fork
Alloy Suspension
Front Brake
Disc Brake
Rear Brake
Disc Brake
Gears
7 speed Shimano
Derailleur
Shimano
Display
LCD
Chain
Rust Resistant
Max Loading
100 Kgs
Packing Size
1920 x 300 x 1070
Bike Weight
27 Kgs
Head Light
Yes
Saddle
Wide Comfort
Brake Lever
cut off when braking
Charger
100v-230v 2 amps
Price
$2,299.00
Warranty
12 Months
Included: Motor, Battery, Controller, Charger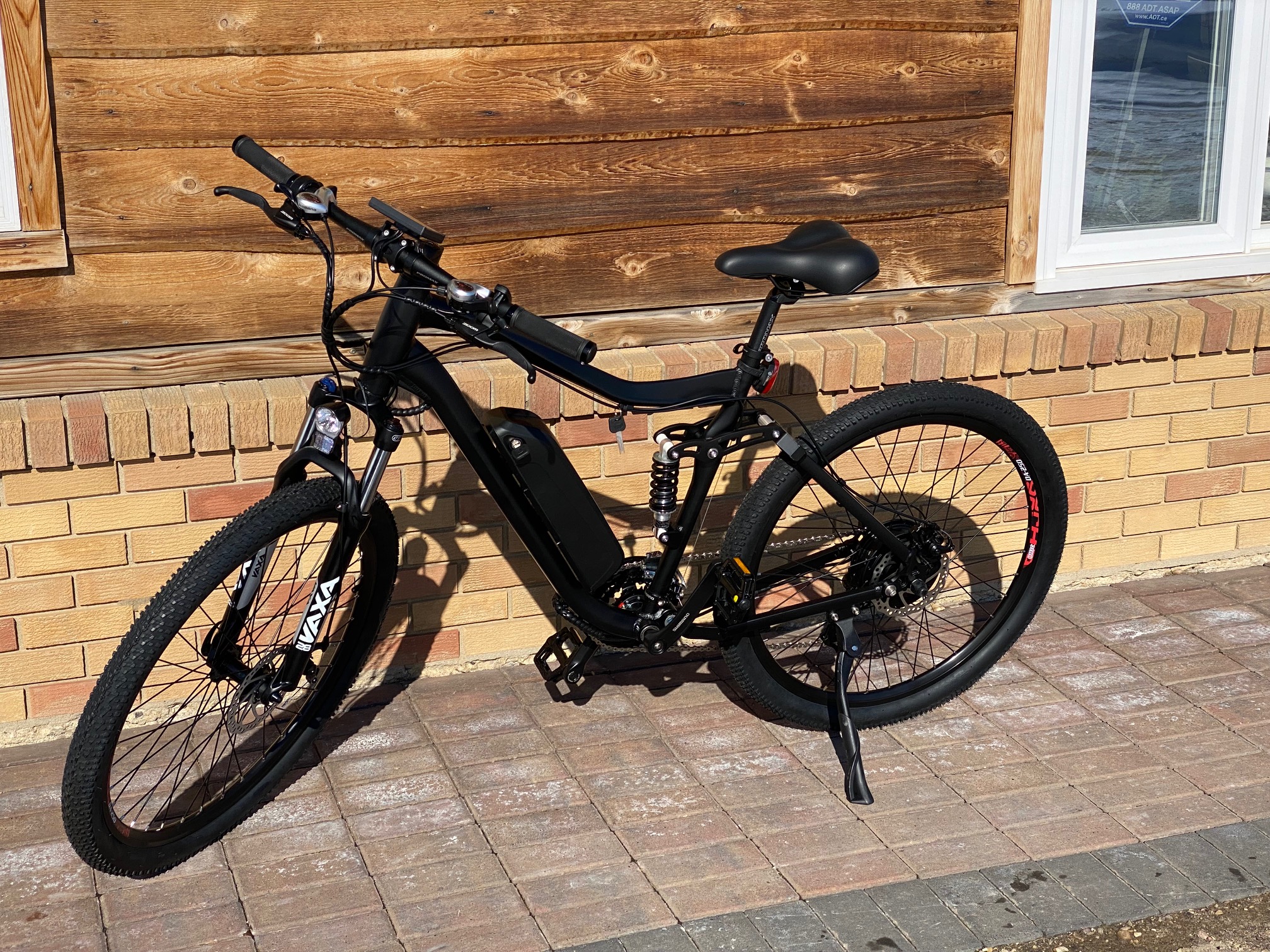 Model
MAX2
Powerful 48V 500W Rear Hub Brushless Motor
Power supplied by 13 Ah Lithium Battery
Motor
48v 500w rear brushless motor
Battery
48v 13Ah lithium
Speed
25-35 kms/hr
Range
30km (only electric)-40Km (PAS)
PAS
1:1 pedal Assist System
Controller
30km(only electric)-40Km(PAS)
Frame
Aluminum Alloy
Colour
Red, Black
Tires
26" x 4" Fat tire
Rims
Al alloy Double-deck
Front Fork
Alloy Suspension
Front Brake
Disc Brake
Rear Brake
Disc Brake
Gears
7 speed Shimano
Derailleur
Shimano
Display
LCD
Chain
Rust Resistant
Max Loading
150 Kgs
Packing Size
1920 x 300 x 1070
Bike Weight
35 Kgs
Head Light
Yes
Saddle
Soft Comfortable
Brake Lever
Cut off when braking
Charger
100v-230v 2 amps
Price
$2279.00
Warranty
12 Months
Included: Motor, Battery, Controller, Charger