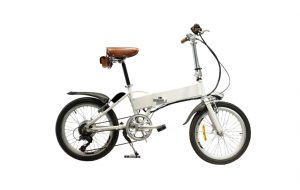 Folding Freedom
Looks can indeed be deceiving, and a perfect example of this is the folding bikes you find at shops such as Freedom Ebikes. These wheeled wonders are small but mighty with energetic motors and durable batteries.
Their size belies their power, and they are the perfect combination of convenience and technology. In a few simple steps, your bike is compact and easy to store. When it comes time to hit the road, a flick here and flip there and you're good to go.
Speaking of going places, no matter where you are headed a folding ebike is a perfect choice. Models like the Mini are terrific for buzzing around the campus while the Trek or Traverse is ready to go anywhere on or off the roads.
With a folding ebike in your garage, or in your closet, you won't ever have to worry about not having a ride to work or school. You've got eco-friendly transportation at hand, and there will never be a worry about parking or storing your bike.
Once you've got the ultimate freedom of your new bike, you might as well customize it to your tastes by adding folding ebike accessories in Alberta, CA. A stronger motor might be in your plans to help you confront that killer hill on your morning commute or maybe you're looking for new tires for the trails. Make your bike your very own.