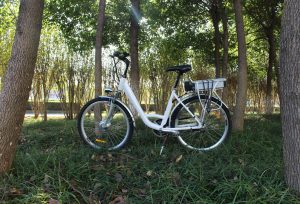 Using an e-bike over a regular bike gets you where you need to go faster and easier. You can travel on some e-bikes at an average speed of 25 mph. Now you really can "take that hill over there"! Also, because you don't sweat as much from cycling as hard, you can wear clothing that is better suited to the prevailing weather conditions.
You can also improve your health when you start riding an e-bike. Exercising on an e-bike offers you sustained aerobic exercise. Your heart rate increases and your muscles and organs benefit from the extra oxygen that flows their way. What an enjoyable way to improve your fitness! And, even those with nagging injuries may find it easier to use an e-bike because the impact on the joints is much less than on a regular bike. The fact that you can enjoy the ride without being sore may encourage you to ride more often.
The onboard motor on e-bikes makes it easier for the rider to go farther than he or she normally might go. The dread that settles over you when you come upon a steep incline disappears. Also, you are in control over when the motor assists you, which gives you the freedom to customize your riding experience and further improve your fitness.
E-bikes are great for improving strength, muscles, and joints. Strengthening exercise comes from steering, pedaling, and balancing. This low-impact workout may also help improve bone strength, which makes riding e-bikes the perfect exercise for seniors looking to stay active.
Connect with us at FreedomEbikes.ca to review our full and folding selections of electric bikes for sale in Alberta, CA.